Kipouria is located in the westernmost point of the Paliki peninsula. Here on the steepest shores of Kefalonia, it was built the Holy Monastery of Kipouria (Figure1&2). The monastery was founded in 1759 by Archimandrite Chrysanthos Boyko-Petropoulos and was administratively subordinated directly to the Patriarchate (until 1907). The monastery was tested several times by earthquakes (1767, 1867, 1953, 1972, 2014) losing thus all parts of its original buildings.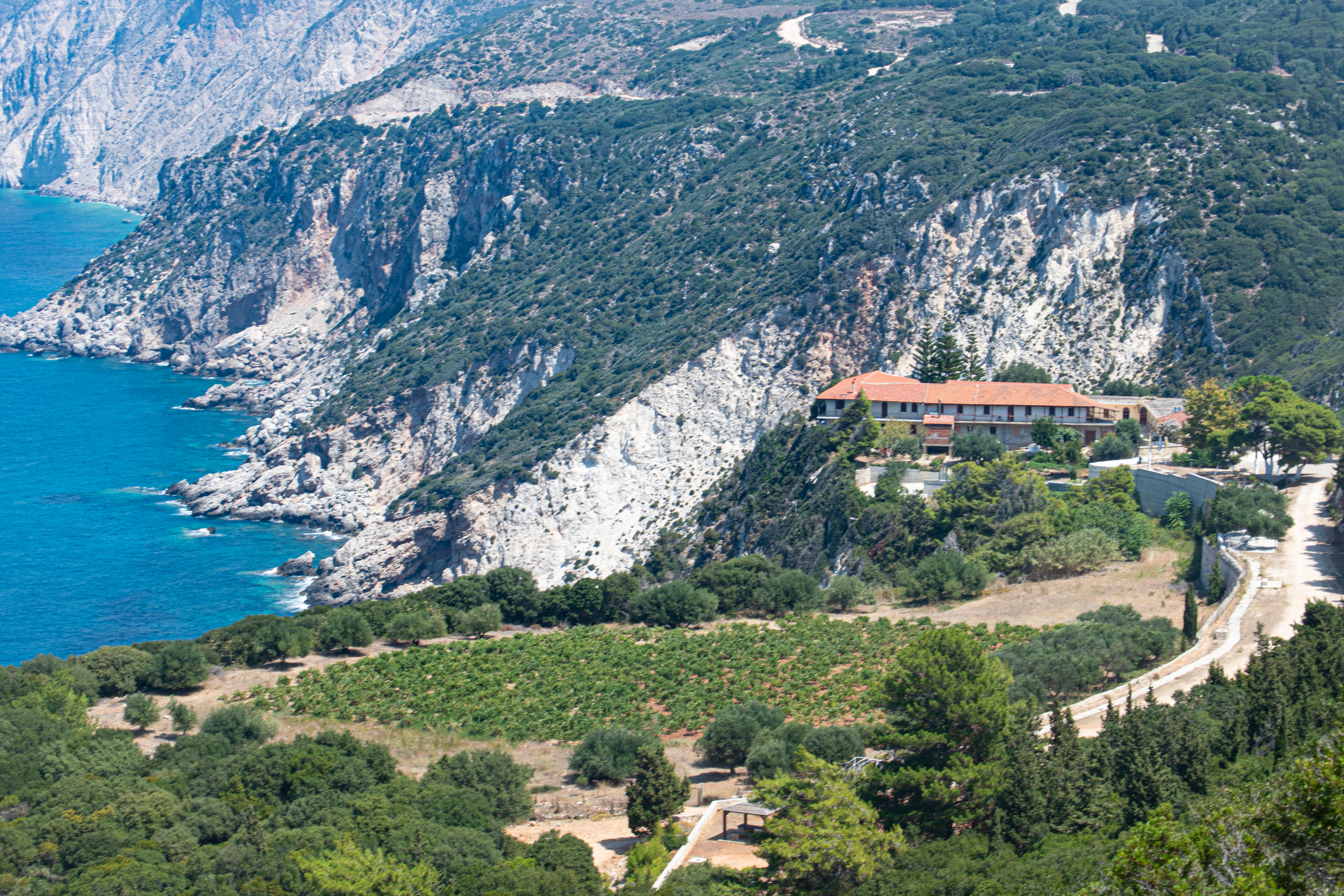 Geodiversity
The island of Kefalonia is located at the NW end of the Hellenic arc which was created due to the collision of the African plate with the Eurasian one (Figure 3). Specifically, the African plate moves to the north and subducts under the European plate which moves to the south. The total convergence speed of Europe and Africa in the Hellenic arc reaches about 3 cm/year, making the Hellenic arc the most active geological structure in Europe. The result of the relative movement of the lithospheric plates is the accumulation of huge amounts of energy so that when they exceed the yield limit of the rocks, they break. As a consequence, we have the abrupt relative displacement of the two blocks along the fracture plane, until they balance in new positions. Specifically, the boundary of this collision constitutes the (edge of Hellenic Arc) Kefalonia Transform Fault (KTF) which strikes in a northeast direction, dips to the southeast, and has a length of about 90 km. Also, the Kefalonia Transform Fault (KTF) is extended to the western coast of Lefkada. This fracture is the fault (KTF) that caused earthquakes. For this reason, Kefalonia and especially its western part is characterized by intense deformation and very high seismicity, as it is located at the end of the Hellenic arc in western Greece.
Due to the geotectonic position of the Geosite Kipouria as well as their lithology, we recognize fractures along the coastal zone of the area, which are responsible for the formation of steep shores (about 100m high) (Figure 1). There are also rockfalls, landslides, and slope failures that testify to the intense tectonic activity. In the area, Eocene-Oligocene (?) (56.00-23.03 My) unbedded to thick limestones occur which are situated stratigraphically on top of the Cretaceous limestones. In places they alternate with "chalk" and locally they include layers (beds) with chert condyles. Finally, moving along the path to the cape of Schiza (Figure 4) we can observe the geomorph of a marine terrace which was formed during the Quaternary (2.58 My-present) on the Eocene-Oligocene limestones due to erosion, in combination with the tectonic and eustatic movements that prevailed during this period.