Platia Ammos is one of the most impressive beaches of the Paliki peninsula, and Kefalonia as well. It is located in the westernmost point of the peninsula. It is considered one of the best beaches in Kefalonia with very difficult access as it requires the descent of more than 400 steps, much of which was destroyed by the earthquake and torrential rains in the winter of 2014 (Figure 1).
Geodiversity
The impressive landscape as well as the wild beauty that we observe in Platia Ammos is due to its lithology and mainly to its geotectonic location. In the wider area, Eocene-Oligocene (?) (56.00-23.03 My) unbedded or thick-bedded limestones occur which are located stratigraphically on top of the Cretaceous limestones. In places they alternate with "chalk" and locally they include layers (beds) with chert condyles. Platia Ammos is characterized as a steep, straight, relatively deep beach. Its geomorphology was formed due to the existence of large faults that testify the intense tectonic activity of the area. These results in the occurrence of rock falls, of huge masses of rocks, creating scree cones or scree and these are the most common failures caused by earthquakes (Figure 2&3).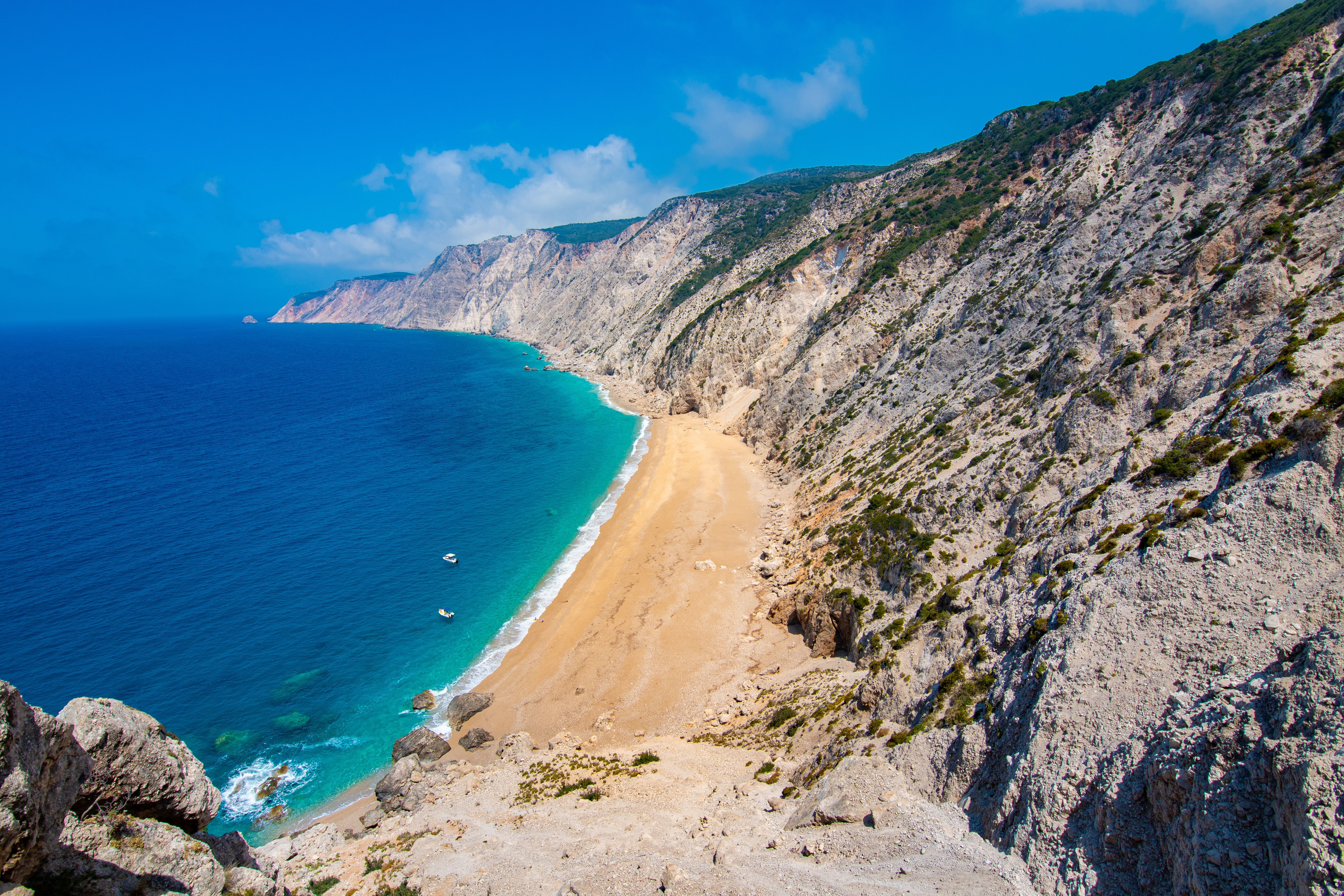 Specifically, the African plate moves to the north and subducts under the Eurasian, which propagates to the south, creating thus the "Hellenic arc" (Figure 4). The island of Kefalonia is located at the NW end of the Hellenic Arc. The total speed of convergence of Europe and Africa in the Hellenic arc reaches about 3 cm / year. The result of the relative movement of these lithospheric plates is the accumulation of huge amounts of energy so that when they exceed the yield limit of the rocks, they break. As a consequence, we have the abrupt relative displacement of the two blocks along the fracture plane, until they balance in new positions. This surface is the fault that causes earthquakes. Specifically, the boundary of this collision constitutes the (edge of Hellenic Arc) Kefalonia Transform Fault (KTF), strikes in a northeast direction, dips to the southeast, and has a length of about 90 km. The Kefalonia Transform Fault (KTF) also is extended to the western coast of Lefkada. For this reason, Kefalonia, and especially its western part, where Platia Ammos belongs, is characterized by intense deformation and very high seismicity. This fact is due also to the existence of faults with NW-SE, NNE-SSW, and NNW-SSE orientation but also secondary faults with NE-SW and E-W orientation as it is located at the edge of the Hellenic arc in western Greece.